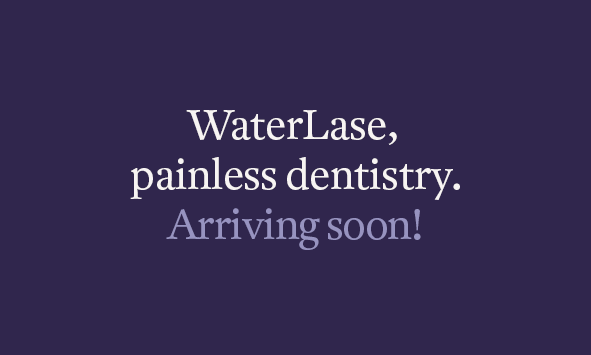 WaterLase, painless dentistry…. arriving soon!
Simon | 03.06.16 | Technology
At Alington Dental we cannot help ourselves from investing in new technology and getting excited about the benefits it will bring to our patients.
Now that we have the opportunity to 'blog' you may not be able to stop us from passing our excitement on to you!
We are delighted to have invested in a new WaterLase system. WaterLase is a safe and gentle alternative to traditional dental tools. Using a laser and water spray, WaterLase can perform many procedures without injection or a drill. Finally going to the dentist is fun again!
WaterLase allows for painless dentistry. The conventional drill works with friction, which causes heat and triggers pain. This necessitates an injection with an anaesthetic* and numb lips, and opens the possibility for thermal damage to the tooth. WaterLase uses a unique, powerful interaction of patented YSGG laser wavelength and water/air spray that cuts, etches and shapes dental tissues without contact, heat, vibration or pressure. So many procedures can be done painlessly with no anesthetic.
Be sure to check back here on our blog for details on available treatments using this revolutionary new system.
*Please note that this equipment may not be suitable to all dental treatments and may be used in conjunction with traditional dental procedures involving the use of a local anaesthetic
.